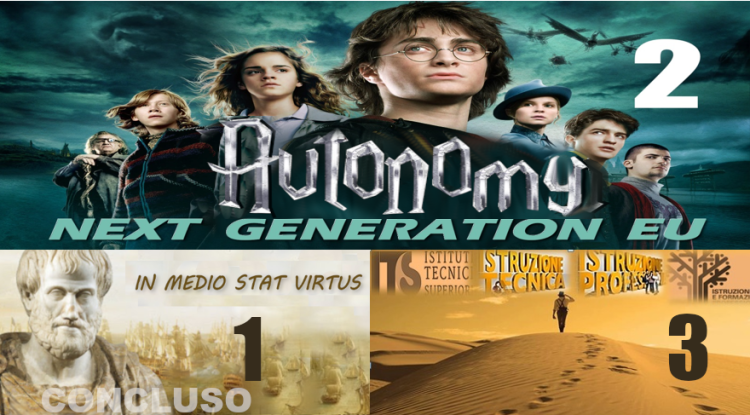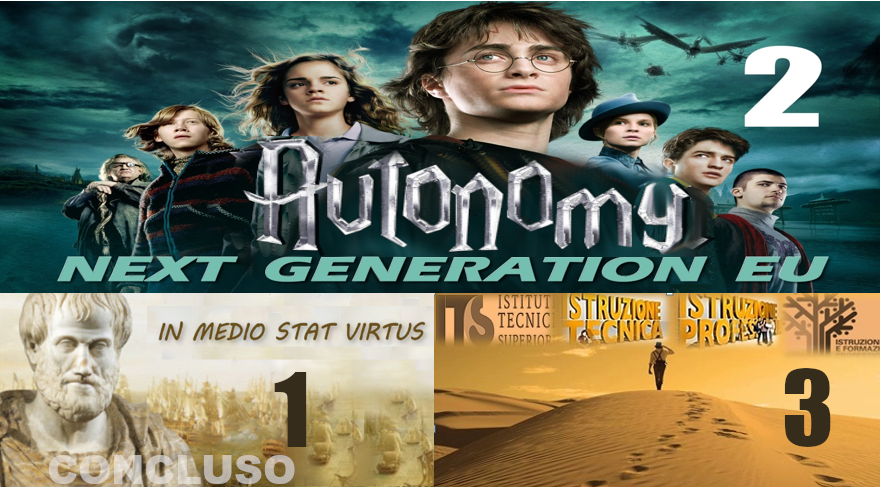 INTERNATIONAL ONLINE MEETING
"NEXT GENERATION EU: FOCUS ON EDUCATION"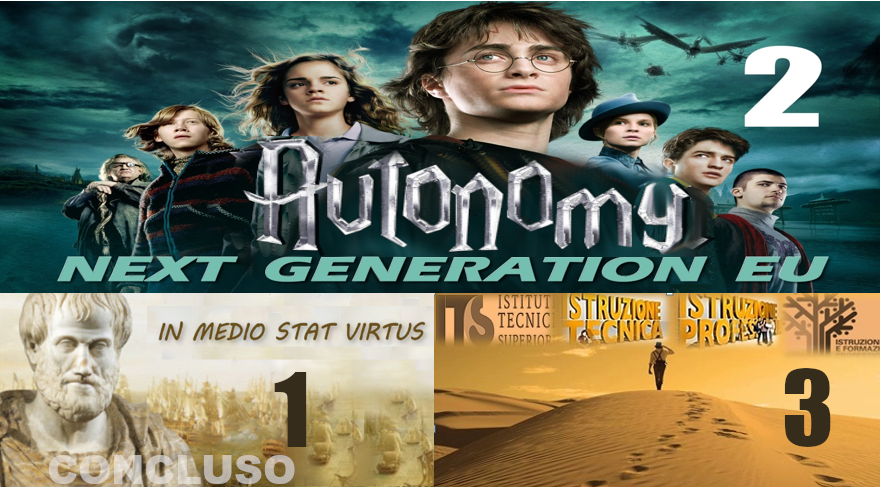 The international online meeting "Next Generation EU: Focus on Education" is related to the great Italian National Recovery and Resilience Plan, PNRR, which is divided into investments and reforms. While  investments have already been planned, reforms are still to be defined. That's why ADi has decided to  focus  on education reforms, choosing to explore 3 key issues: 1) teachers career and educational leadership, 2) School autonomy, 3) technical and vocational education.
These 3 issues will be treated in the 3 different sessions , which will take place in 3 different days and months. They are:
1) IN MEDIO STAT VIRTUS. The importance of middle leadership within the legal status of Italian teachers' . Friday, October 15th2021,  h.3pm-6pm (concluded)
2) PNRR AND SCHOOL AUTONOMY.  Proposals for a new  start. Friday, November 12th2021,  h.3pm-6pm
3) PNRR: THE CRUCIAL QUESTION OF TECHNICAL AND PROFESSIONAL EDUCATION. Proposals for a support programme. Friday, December 10th2021,  h.3pm-6pm
The registration is only one for the 3 sessions of the meeting "NEXT GENERATION EU: FOCUS ON EDUCATION".  Register here
Presenting the second session:
PNRR AND SCHOOL AUTONOMY
Proposals for a new  start

THE TITLE
School autonomy, as well as middle leadership or ecosystemic leadership (as we called it at the end of the previous seminar) does not appear in the PNRR. We all know, however, that any attempt to relaunch education, to personalize learning, to give a voice to students runs into the rigidity of the bureaucratic system (staff, recruitment, overload of curricula, timetables, etc.).
So we need to have the courage to break many of these inflexibilities, giving schools authentic autonomy, organizational and didactic autonomy, with the possibility of changing curricula and timetables, financial autonomy and direct staff hiring.
After so many failures, it is necessary to have the clear awareness that it will not immediately be possibile relaunching authentic autonomy in all schools.
Thus, while we must try to remove obstacles and impediments from the whole system, it becomes necessary to experiment advanced autonomy where there are ideas for innovation, breaking at some point that vicious circle that has been established in schools between the denial of rights and hiding of duties.
To experience an incisive school autonomy, which can intervene on the curricula, on the staff, on the recruitments, on school times, the use of art. 11 of Presidential Decree 275/99, on Autonomy Regulation is not enough.
For this ADi has prepared a draft ffor the establishment of Special Autonomous Schools, ISAS.
The hope is that, among the reforms that must accompany and support the PNRR, there is also this reform, or something similar to it, which will give new impetus to the many who want to innovate and improve.
THE SEMINAR
As in ADI habits, the seminar will address Italian issues in an international comparative context.
Greetings from Minister Patrizio Bianchi
The seminar will open with the greetings of Minister Patrizio Bianchi. An extremely significant testimony of the fact that school autonomy and middle leadership are important issues, which we are sure the Minister and the whole Government will take as decisive for the realization of the fourth "mission" of the PNRR, on Education and Research.
A joyful introduction to the topic
Two acting teachers, Gigi and Michele, in the guise of Dante and Virgil, will take us through the troubled events of school autonomy with lightness. A long history that, to reach the port, took four times the years that Virgil assigned to Aeneas to land in Lazio.
The four keynotes and the conclusion
The first talk, by the President of ADi, Alessandra Cenerini, will propose an analysis of the current situation and will focus on the proposals that the Association is thinking to experience situations of authentic autonomy, at least where there are ideas and a desire for innovation.
The second talk, by Lene Jensby Lange, will introduce us to the model of school autonomy and decentralization of the Danish system. We will know the climate of well-being of those schools, the possibility of intervening not only on the curricula but on the school architecture.
The third talk, by Claire Amos, will take us to New Zealand, where a drastic transformation of the education system took place in 1989. From evening to morning all the fundamental competences of the Ministry of Education were abolished and all the management of public schools was transferred to individual school boards.
The fourth talk, by Carlo Marzuoli, former professor of administrative law at the University of Florence and honorary member of ADi, will deal with the thorny, but decisive question of the administration of teachers. Are the teachers belonging to the schools or to the State?
The seminar will end with an indication of commitments to solicit government interventions for the relaunch of school autonomy, taking advantage of the great possibilities offered by the PNRR.
PROGRAMME
PNRR, WHAT REMAINS OF SCHOOL AUTONOMY
Proposals for a new  start
Friday 12 November 2021, 3-6 pm
Chaired by Lorenzo Benussi

3.00 pm
Welcome to the Minister Patrizio Bianchi
3.05 pm
Greetings from the Minister Patrizio Bianchi
3.20 pm
Introduction to the session
Lorenzo Benussi, Chief Innovation Officer, Fondazione per la scuola
3.30 pm
 Autonomy I'm seeking, which is so dear
Michele Gabbanelli e Luigi Mosutto, teachers and actors at I.I.S Savoia Benincasa, Ancona
3.40 pm
Autonomy, myth and reality. ADi's proposals to give wings to those who want to fly
Alessandra Cenerini,  President of ADi
4.00 pm
Discussion
4.10 pm
Decentralization of education and school autonomy in the Danish model
Lene Jensby Lange, President of Global School Alliance
4.30 pm
Discussion
4.40 pm
Coffee Break
4.50 pm
New Zealand: a bold but controversial school autonomy
Claire Amos, Principal at Albany High School, Auckland, Nuova Zelanda
5.10 pm
Discussion
5.20 pm
Do teachers belong to the schools or to the State?
Carlo Marzuoli,  former professor of Administrative Law, University of Florence
5.40 pm
Discussion
5.50 pm
Conclusion of the session
Alessandra Cenerini, President of ADi
CHAIR AND KEY SPEAKERS
Lorenzo Benussi
Lorenzo Benussi is Chief Innovation Officer of the Fondazione per la Scuola della Compagnia di San Paolo. He is also fellow of the NEXA Centre for Internet and Society at the Polytechnic of Turin, innovation expert for the European Commission and co-director of the Civic Tech School. In the last 10 years, he was appointed as technical advisor of the Minister of Education and Research and he took part in several task-forces for digital innovation at the Minister of Public Administration and the Minister of Institutional Reforms. Lorenzo Benussi holds a Laura Magistrale in Communication and a PhD in Economics of Innovation from the University of Turin where he conducted researches in economics of innovation and strategic management.
Alessandra Cenerini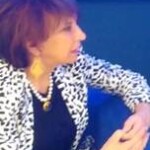 Alessandra Cenerini is the President and founder of ADi, an Association of Italian Teachers and School Principals, which advocates for high quality public education, a strong teaching profession and positive educational change across Italy in connection with other educational systems all over the world. Former teacher  ​​in secondary upper schools, she is committed to collaborative professionalism, middle leadership, education and equity, student engagement and well-being, and educational change.  She organizes national and international seminars, holds training courses for teachers and school leaders. She is the author of numerous essays and books on school reforms and teachers professionalism including Insegnanti professionisti; Professionalità e codice deontologico degli insegnanti with Rosario Drago; Una pagella per la scuola with Norberto Bottani.
Lene Jensby Lange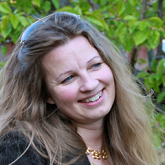 Lene Jensby Lange is the founder of Autens Future Schools, a consultancy specializing in third millennium learning, schools transformation and learning space design.
Autens inspires and develops visionary futures with clients, creating momentum, ownership and courage to transform. Autens strongly believes in the power of how our schools and learning spaces are designed and works tirelessly to transform schools and higher educational facilities – both in content, pedagogy, student work, structure, interior design and architecture – into vibrant places learning suited for the needs of students in the 21st Century.
Lene Jensby Lange also leads the Global Schools' Alliance, whose goal is to ensure children experience a better quality of education no matter where they live. Its mission is to collaboratively raise the standards of education in countries worldwide by connecting with the most progressive schools.
Claire Amos
Claire Amos is Principal at Albany Senior High School in Auckland, New Zealand. She was also one of the three foundation Deputy Principals at Hobsonville Point Secondary School.
Claire has worked for a variety of schools and educational organisations in her twenty- plus year teaching career. This has included working at a number of new and established secondary schools as well as working on various national projects with the NZ Ministry of Education, the Network for Learning and, and the New Zealand Qualifications Authority. Claire was a founding member of the Education Council of Aotearoa and is a board member of NetSafeNZ and 21C Skills Lab.
Claire is passionate about her family, education, design and tattoos, living by the mantra – "You can never be overdressed or overeducated".
Carlo Marzuoli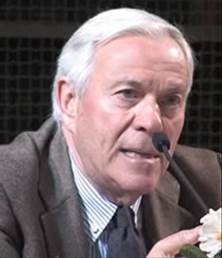 Carlo Marzuoli, former Professor of Administrative Law, at the University of Florence. His main interests concern administrative power, judicial control over administration, Public Administration in private and public services, education, culture and management of territory.
Former President of the Technical-Advisory Committee of the University of Florence, Director of the Department of Law, Director of the School of Specialization for the Legal Professions at the University of Florence, and member of the Steering Committee of the magazine "Diritto Pubblico", il Mulino, of which he was Director.
He is author of many publications, among which some  directly concern education, such as Istruzione: libertà e servizio pubblico (Bologna, 2003); L'istituto scolastico (fra conservazione e innovazione), (Padova, 2005).
Michele Gabbanelli e  Luigi Mossuto
Michele Gabbanelli and Luigi Mossuto are teachers and actors , they will open the session by  playing  a short show on the endless unsuccessful  Italian attempts  to establish a middle leadership.
Michele Gabbanelli  teaches English  at I.I.S. Savoia Benincasa, Ancona.
He  is engaged into school innovation (Debate, MLTV), cooperating with  Educational Avant-garde  and European Schoolnet.
In the past he played theatrical activity as an actor and director.
Luigi Mossuto  teaches Italian and Latin at I.I.S. Savoia Benincasa, Ancona.
His passion for theater was born during his university years in Pavia. He attended university lectures in the morning,  acting classes in the afternoon, and studied at night.
He believes in the importance of story telling and in   meaningful interactions between people through words and gestures. He is convinced that the classroom is the ideal place for this alchemy, as long as  pupils, not  teachers, are at the center.
How to register
The meeting is free for special guests, keynote speakers and ADi members. All the other attendees have to pay a fee (90€) for the whole International meeting (3 different sessions, which will take place in 3 different days and months).
Pay the amount: 90 € via Paypal to ufficio@adiscuola.it or bank transfer to ADI – ASSOCIAZIONE DOCENTI E DIRIGENTI SCOLASTICI ITALIANI
IBAN IT32W0306909606100000073808
BIC BCITITMM
Send an email with the copy of the payment to ufficio@adiscuola.it
Fill the form here https://forms.gle/1GP3QwFVX22kh47s7
versione italiana